If you want to escape the bustling life of a city for a relaxing day open air, We are here to propose to take you for an unforgettable experience for two hours drive away from Fes to a countryside village in Taounate to discover the secrets of Morocco's delicious cuisine where you will learn how to prepare and cook local meals where most of the used cooking ingredients locally grown and in meantime you will be able to enjoy the magic landscapes of the region with pure air quality while the cooking course is taking place outdoor.
Upon your arrival, after you are welcomed by a cup of organic mint tea, you will be taken around to a local organic farm to get first time to see many different kinds of organic herbs, vegetables and fruits that proudly we and local people grow ourselves and you will be also given the opportunity to pick some of the fresh ingredients that you need to use while preparing your chosen cooking meals outdoor in case the weather looks perfect!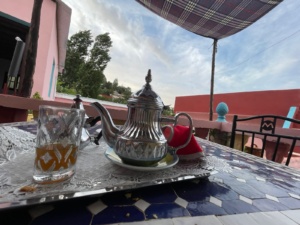 The course is supervised by a local professional cook accompanied by a translator to have a better understanding about every single information of our local nature-based cuisine.
Having experienced a local cooking food with us will help you not only to learn the basics of organic cooking of local people but also to learn how spiritually and physically they are connected to their lands even the toughness of their livelihood there.
Being healthy today is every one's concern and going back to the nature is a key for everyone's health so that we care about quality of food and we want to teach other people about it. That is the reason why we started Outdoor Farm Cooking Class Experience. We want people to know how to cook healthy foods using fresh organic ingredients picked up locally.
With the basic local ingredients and hands-on experience you will be able to cook like us!